Many medium-sized media outlets may not have easy access to Google News, but if you have WordPress you can easily adapt your business using WordPress Newspack.
WordPress Newspack is an all-in-one platform designed for small and medium-sized media that simplifies publishing and generates the necessary audience and revenue.
At first, Newspack was a free product, but for some time it has been priced at a minimum of $ 500 per month. But you can always set up the system yourself.
Newspack also comes with a collection of custom blocks, including Homepage Entries, Donate, Article Carousel, Ads, Author Profile , and Iframe, and unique block styles for Core Blocks like Columns and Group blocks.
Newspack maintains a list of approved third-party plugins that can be used by any Newspack site. If any of the publishers want to use a plugin that is not yet listed, they have a review process in place to ensure that the plugin is safe, effective and reliable.
Newspack's advertising assistant allows you to easily integrate WordAds, Google AdSense , and Google Ad Manager ads into your site.
Newspack Listings is a tool that helps editors create reusable lists using Gutenberg's block editor. It can be used to generate elaborate lists of specific articles, or lists that are populated with queries. Lists can be embedded in the content of posts or pages, or anywhere Gutenberg blocks can be used. List items exist as discrete, reusable pieces of content with their own separate pages, useful for SEO purposes.
With the Newspack Sponsors plugin, you can create sponsors and associate them with entries, categories and tags to give special visual treatment to sponsored or subscribed content.
Newspack Newsletters allows you to create email newsletters with the Gutenberg editor, and send them to your Mailchimp, Constant Contact or Campaign Monitor mailing lists, all without leaving your website.
Newspack's Analytics allows you to improve the default settings of Google Analytics. Currently, Newspack offers its analytics-related features only when the site uses GA through site kit.
There is a list of sites created with WordPress Newspack to follow as an example.

This tutorial has been created on a Clouding.io VPS. You can create your own VPS from 3€/month.
In addition, you have the possibility to create your VPS with the WordPress image in one click.
PARTNERSHIP
Contents
Requirements
To use WordPress Newspack for Google News it is only necessary to have a WordPress. It is best to start with a new installation, and from there create the entire system.
Keep in mind that, taking into account that the system must absorb a lot of traffic, the ideal is to have the WordPress in at least one VPS (that is, a dedicated and unshared infrastructure) and optimized specifically for WordPress, including the different cache layers.
Maintenance
Although Newspack is a compendium of multiple plugins and themes, all of them open source, they are not plugins or themes that are in the repository of WordPress.org, so you have to do a high job in terms of their maintenance, since in most cases you should be attentive to the update manually.
Installation
The installation to start up Newspack is relatively simple, and consists mainly of 3 parts.
The first part is the installation of some plugins that are in the repository of WordPress.org and that facilitate the work of some elements, such as AMP, PWA or SEO.
The second part is to complement these plugins with those of the Newspack system. These plugins are not in the repository so you will have to download them from the development system (on Github).
Finally, we have available the themes, both the main base theme, and some Son Themes that we can use as a basis for our custom design. These themes are also not in the repository, so we will also have to download them from the development site (Github).
Repository plugins
To get started, it is recommended to install 6 plugins. They are very prestigious plugins, well maintained and quite optimized, most supported by large companies related to the WordPress world.
We can do the installation from the internal WordPress search engine.

AMP
This plugins will help us to create and support the AMP mode.
Co-Authors Plus
Allows you to assign more than one author to a content.
Jetpack
They are a set of tools to power WordPress.
PWA
Allows the activation of progressive Web Apps.
Site Kit by Google
The suite of synchronization tools with Google.
Yoast SEO
The suite of tools for SEO.
Plugins de Newspack
This list of plugins must be downloaded directly from the development site. There are more than 10 plugins that we must keep updated manually.
Both the installation and the update is done from the plugins area, and Upload plugin.

Remember that, except for this first plugin (Newspack) the rest of the plugins are optional, so it is recommended that you look if you are really interested in the project. Others are tools that facilitate integration or migration.
Newspack
(required) An advanced open source publishing and revenue generation platform for news organizations.
Download the latest version of Newspack.
Newspack Google Ad Manager
Integration of advertising services.
Download the latest version of Newspack Google Ad Manager.
Newspack Blocks
A collection of blocks for news publishers.
Download the latest version of Newspack Blocks.
Newspack Campaigns
Overlapping and integrated campaigns that support AMP.
Download the latest version of Newspack Campaigns.
Newspack Image Credits
Add information about photo credits to images.
Download the latest version of Newspack Image Credits.
Newspack Listings
Newspack site listings and directories.
Download the latest version of Newspack Listings.
Newspack Media Partners
Add media partners and their logos to publications. Intended for publications in conjunction with other media.
Download the latest version of Newspack Media Partners.
Newspack Newsletters
Creation of newsletters with the Gutenberg editor.
Download the latest version of Newspack Newsletters.
Newspack Sponsors
Add sponsors and sponsor information to posts. It allows a special visual treatment for sponsored content.
Download the latest version of Newspack Sponsors.
Newspack Custom Content Migrator
A set of tools in CLI environment to help during the migration of content from a Newspack site.
Download the latest version of Newspack Custom Content Migrator.
Newspack Co-Authors Plus Tools
CLI tools to help with the massive processing of content for use with the Co-Authors Plus plugin.
Download the latest version of Newspack Co-Authors Plus Tools.
Newspack RSS Enhancements
Adds the ability to create custom RSS fields using query parameters.
Download the latest version of Newspack RSS Enhancements.
Newspack Scheduled Post Checker
Verify that messages have not been lost in the calendar, and publish them if necessary.
Download the latest version of Newspack Scheduled Post Checker.
Newspack Election Kit
(United States of America) Provides a sample vote for Newspack customers.
Download the latest version of Newspack Scheduled Post Checker.
Newspack Content Converter
Mass converts pre-Gutenberg HTML content into Gutenberg blocks.
Download the latest version of Newspack Content Converter.
Newspack Disqus AMP
Adds AMP support to the Disqus plugin.
Download the latest version of Newspack Disqus AMP.
Newspack Rename Comments
It gives the Newspack theme the ability to allow users to rename comments.
Download the latest version of Newspack Rename Comments.
Newspack Supporters
Manage and display your site's followers.
Download the latest version of Newspack Supporters.
Newspack 404 Cache
Removes headers that prevent caching of 404 responses.
Download the latest version of Newspack 404 Cache.
Newspack Homepage Redirect Fix
Patches to redirect the homepage redirect loop.
Download the latest version of Newspack Homepage Redirect Fix.
Newspack Topics
For Newspack to work completely we must use a theme compatible with this system. This is why there is a main theme called Newspack and a series of 5 child themes that adapt the design to some relevant sites.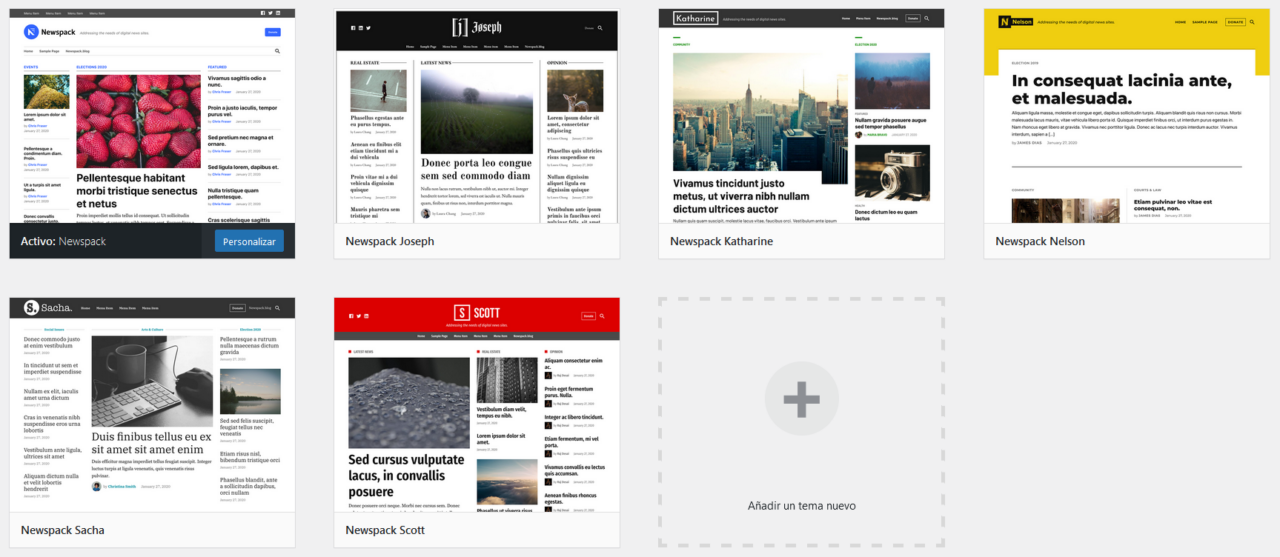 Newspack
Newspack Theme is the main theme, and is the parent theme for the rest of the collection. It has underlined headers in the blocks of the homepage entries, and a tertiary menu in the form of a button. Use system fonts for both headings and the body of text.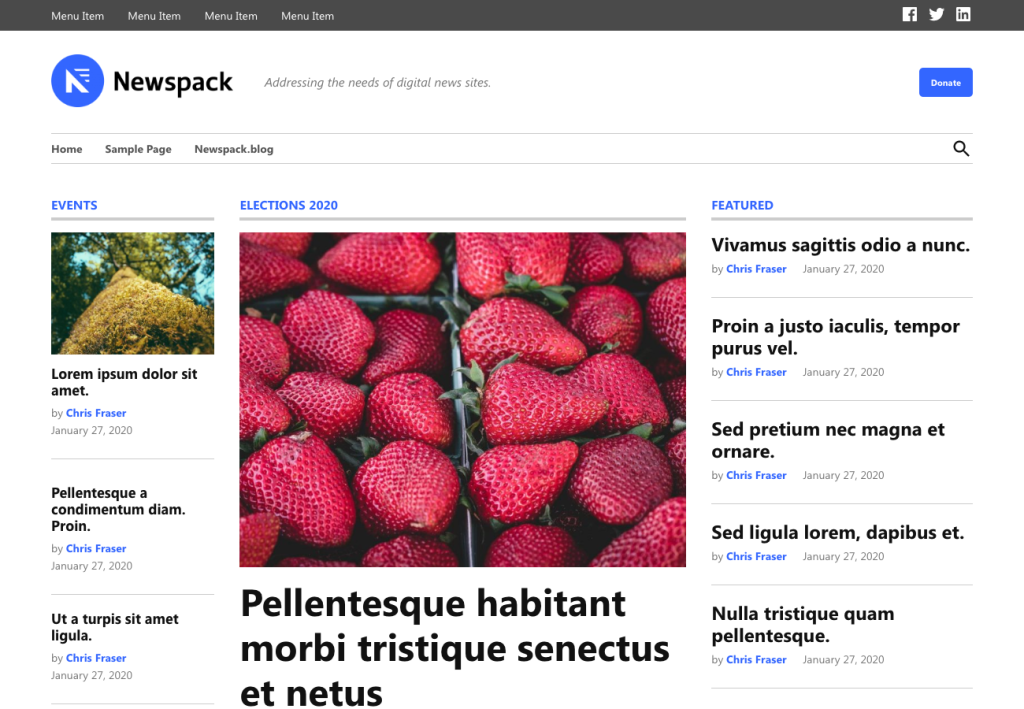 The system generates a version of the main theme and its child themes in each version.
Download the latest version of Newspack Theme.
Newspack Joseph
Newspack Joseph is named after publisher Joseph Pulitzer, best known for the Pulitzer Prizes, which were created with his endowment to Columbia University.
Reminiscent of classic print newspaper styles, this children's theme uses Old Standard TT for the headers and EB Garamond for the body of the text, and the entire design is framed by a hair border.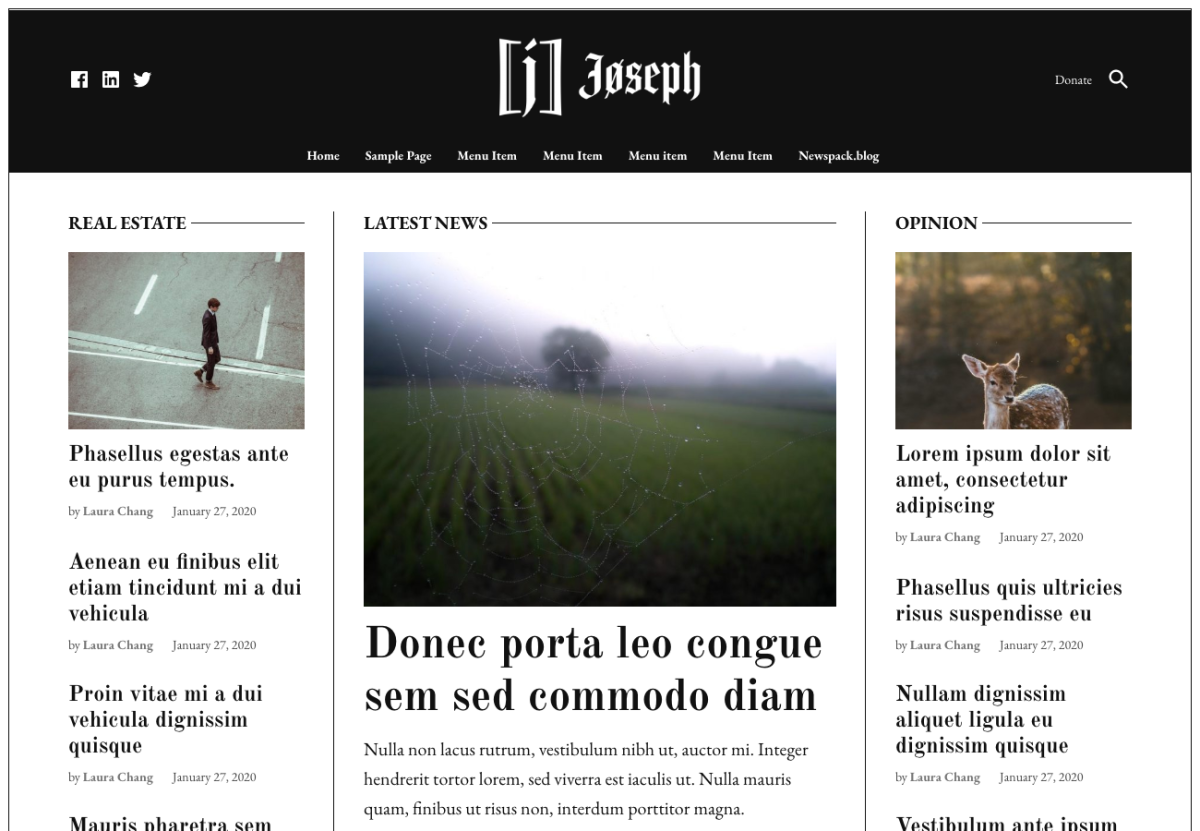 Newspack Katharine
Newspack Katharine is named after Katharine Graham, former editor of The Washington Post.
The theme includes a small rectangular accent over the section titles of homepage posts, dotted borders, and an overlay style on featured images in the homepage entries block.
Use Barlow for headers and body typography.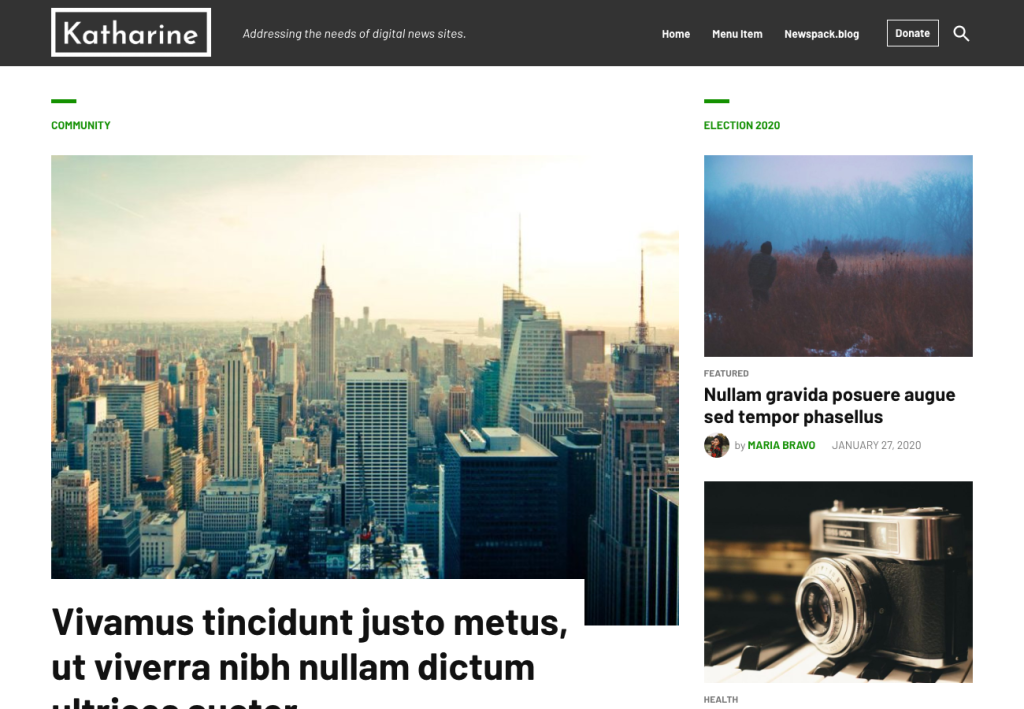 Newspack Nelson
Newspack Nelson is named after Nelson Poynter, who was the owner of the Times Publishing Company, and the namesake of the Poynter Institute.
Its most striking feature is the "overlapping" style of the site header. It uses by default the thick Montserrat for the headers, and fonts of the sans-serif system for the body of the text.
Other elements that attract attention are the Pullquote block, the Separator block, and the dropcap, which uses the custom secondary color.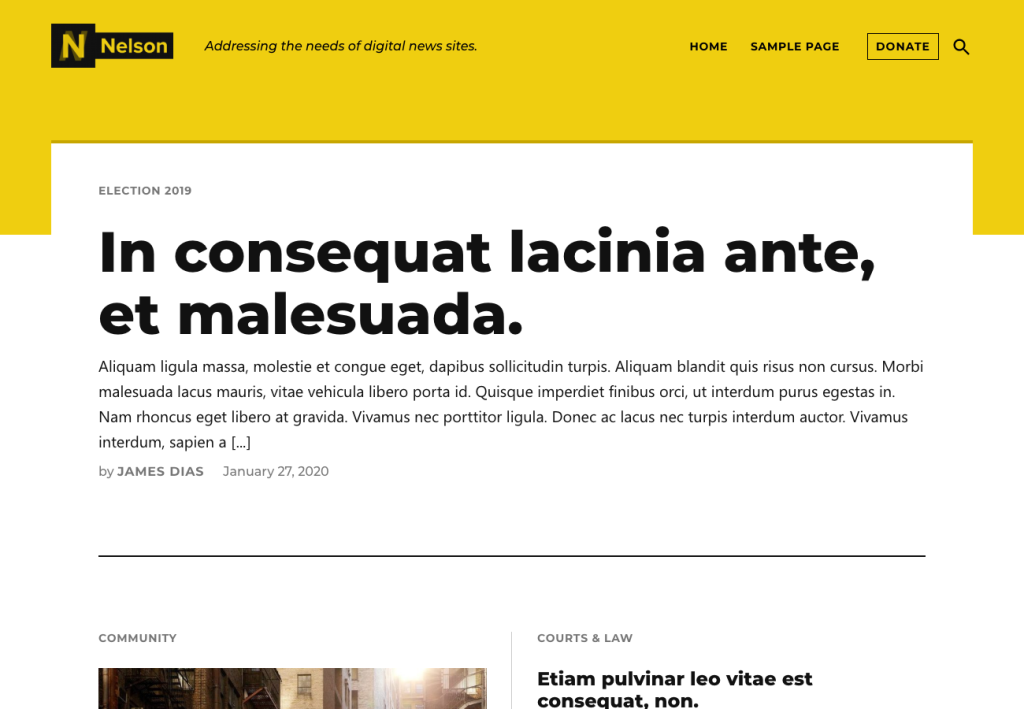 Newspack Sacha
Newspack Sacha is named after Pulitzer Prize-winning investigative journalist Sacha Pfeiffer.
This theme has headers centered on the homepage post blocks with a border on each side, and titles focused on the individual posts and pages.
The default header source is IBM Plex Serif, and the default body source is the serif system source; the pair of double serifs adds an elegant edge to this children's theme.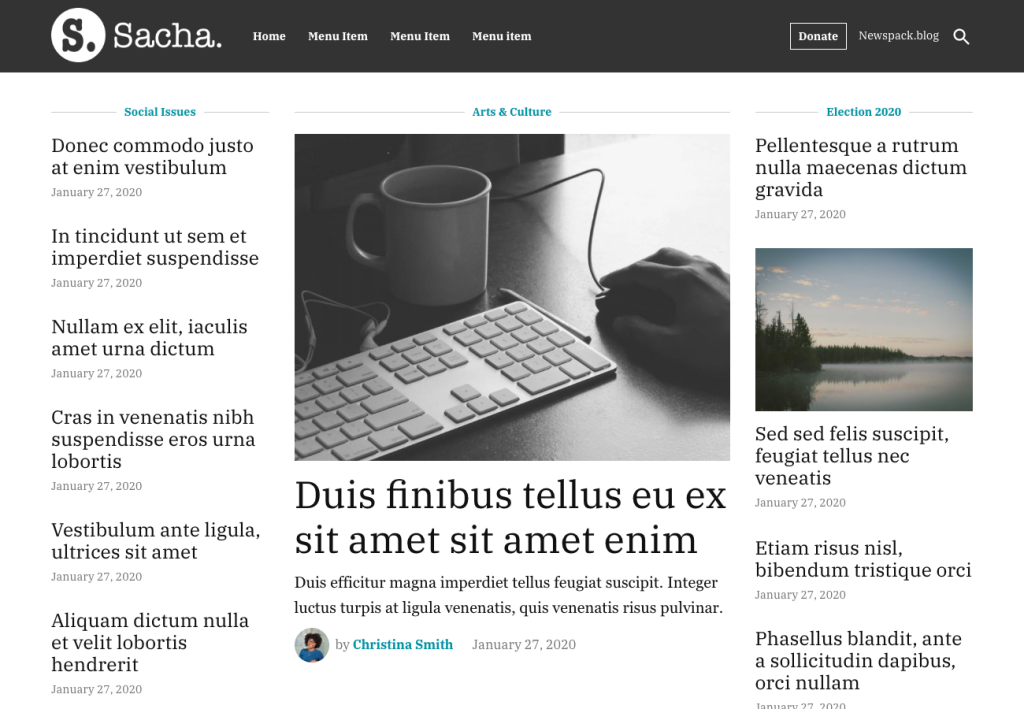 Newspack Scott
Newspack Scott is named after John Scott, namesake of the Scott Trust and owner of The Guardian.
This children's theme is one of blocks, with avatars changing from their default circles to squares, and box-shaped accents before each title in the Entries section of the homepage, using the current primary color.
Newspack Scott uses Fira Sans Condensed as the default header font, and a serif system font to facilitate readability in the body.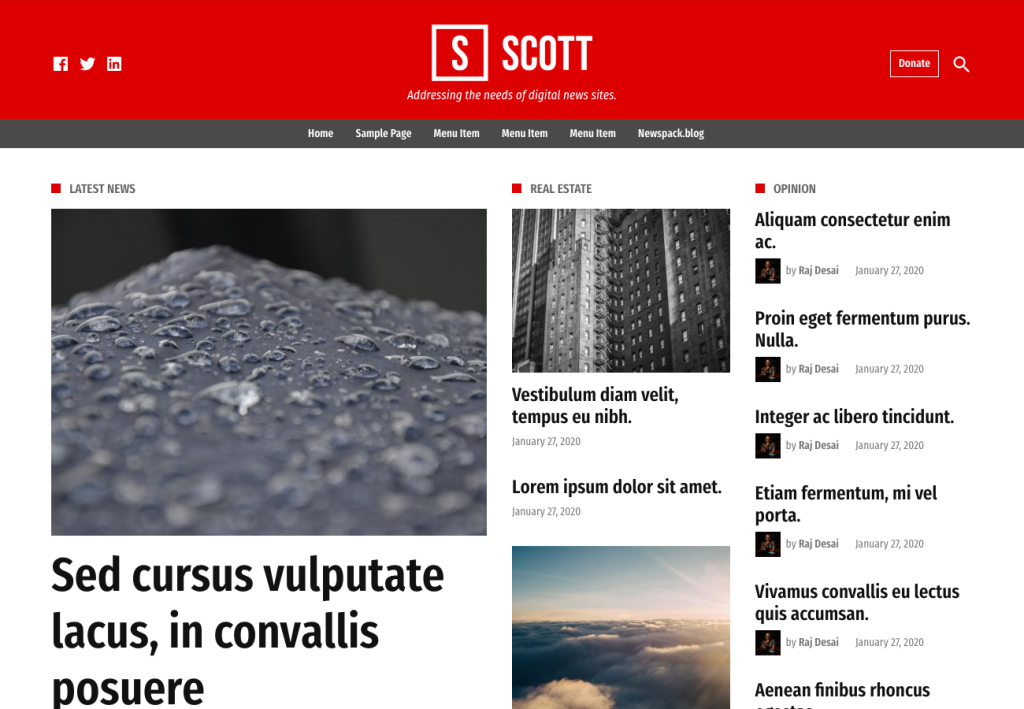 Getting Started with Newspack
The first thing we will do after installing the plugins and themes is to activate them.
We will start by activating the Newspack plugin and then the Newspack theme. From here we can activate the plugins as we need them or want to have them available.
The Newspack plugin itself will make recommendations of other compatible plugins that may be of interest to us.
Once activated, we will go to the configuration of the Newspack plugin, which will only have a single option: Setup.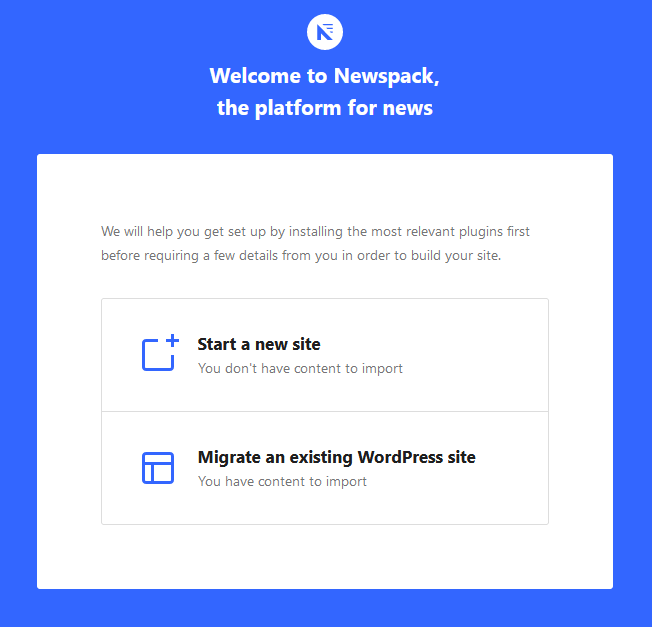 For this example we will start from the basis that it is a new site that we want to create, so we will click on "Start a new site". If this is the case (for example, to learn how it works) we can activate the example contents.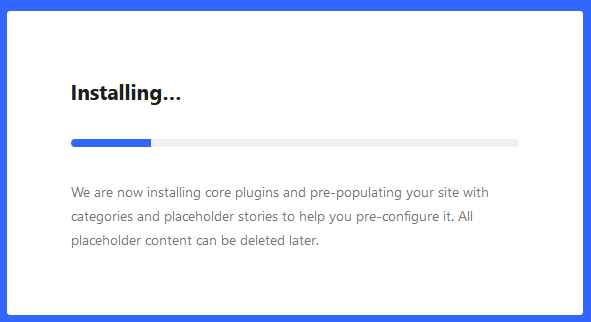 After installation we will have to fill in the data and images of the site.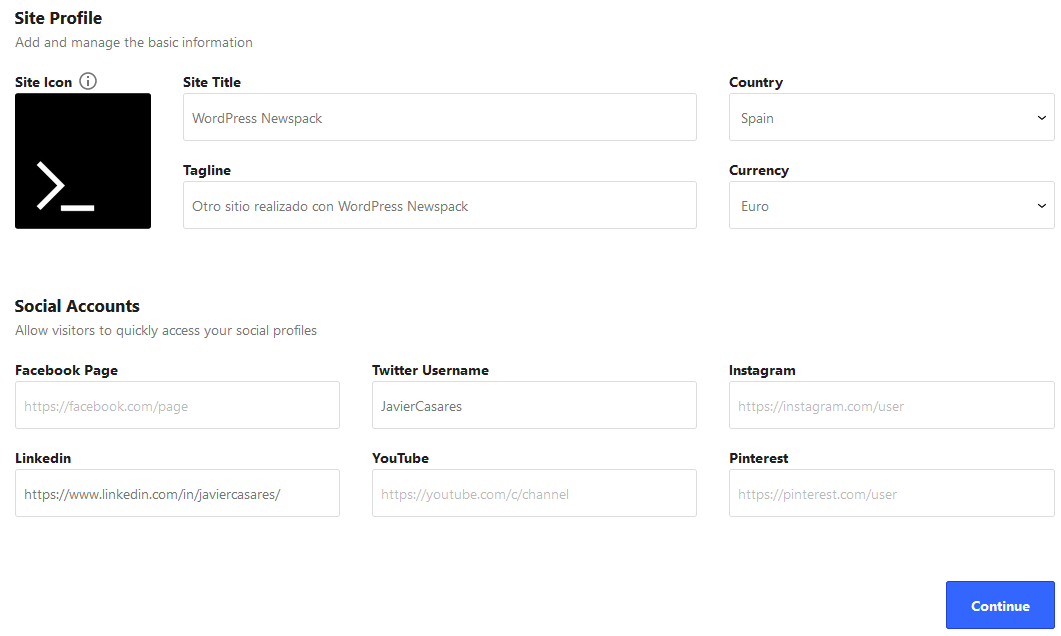 After several configurations, we will arrive at the design of the site. Here we will choose the theme we want to use, the layout of the main page, colors, fonts and logos.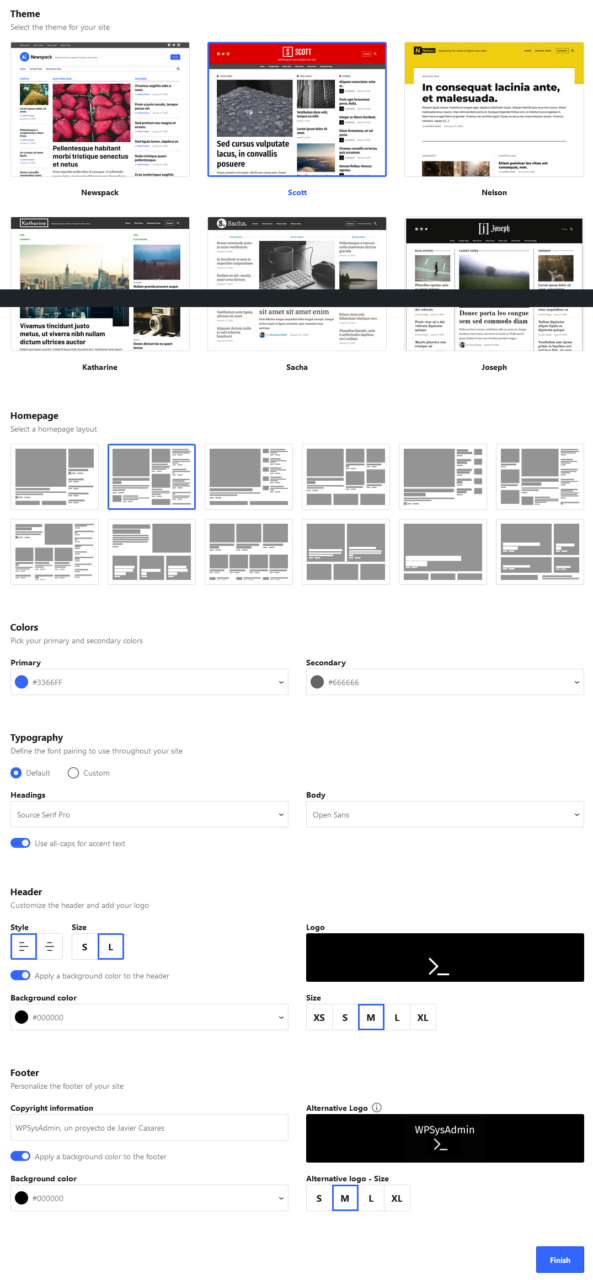 From here you have the different options from which to manage the entire project, divided into several sections. These options may vary depending on the plugins you have activated.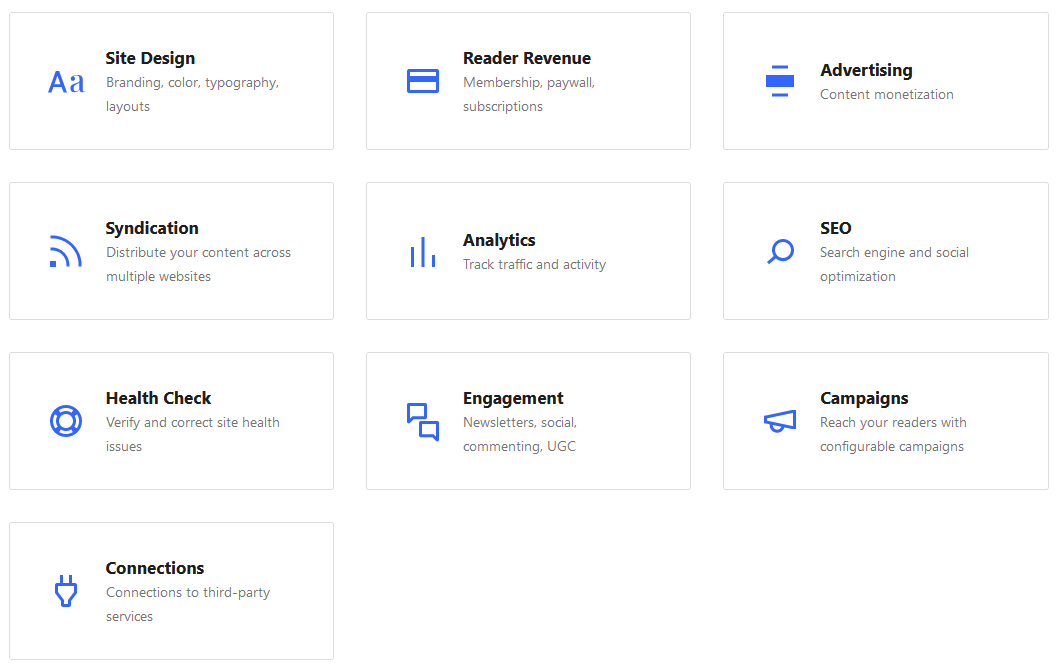 Upshot
After the first configuration and several fixes, a summary of how our site would look could be as follows.
Limitations and conclusion
No doubt WordPress Newspack is a very good solution for media of a small and medium size, but it can fall short in some larger cases.
One of the limitations of the project is the impossibility of using WordPress MultiSite that could allow the management of news in a categorized way in different sites.
Although if there is something to keep in mind is that this system helps, and a lot, to put order and that a project as large as a newspaper or media does not get out of hand when it grows.
---
About this document
This document is regulated by the EUPL v1.2 license, published in WP SysAdmin and created by Javier Casares. Please, if you use this content in your website, your presentation or any material you distribute, remember to mention this site or its author, and having to put the material you create under EUPL license.