Last Revised: October 2, 2021
If your WordPress Site Health dashboard displays the message PHP Default Time Zone is invalid, you have the ability to correct it with some changes.
PHP default timezone is invalid
PHP default timezone is invalid
Change the time
When you install WordPress for the first time the system sets utc as the time zone. Although this is universal time, in itself it is not an hour, as WordPress prefers the time of a place, since if you have summer/winter time change, the change will be applied automatically.
You can access the Settings / General option, and there you find the Time Zone section.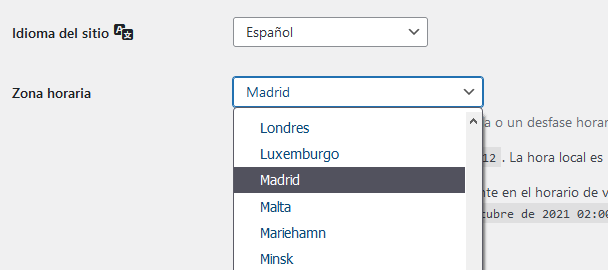 You can search for your continent, and once there you will see the capitals or cities of reference of each country and time zone.
---
About this document
This document is regulated by the EUPL v1.2 license, published in WP SysAdmin and created by Javier Casares. Please, if you use this content in your website, your presentation or any material you distribute, remember to mention this site or its author, and having to put the material you create under EUPL license.